Overview
This lesson supports discussion of the importance of STI checks and what may be involved in these.  Awareness of signs and symptoms of STI's are important for recognising the cues for seeking medical care.  Awareness of STI checks is important for discussing sexual health with intimate partners.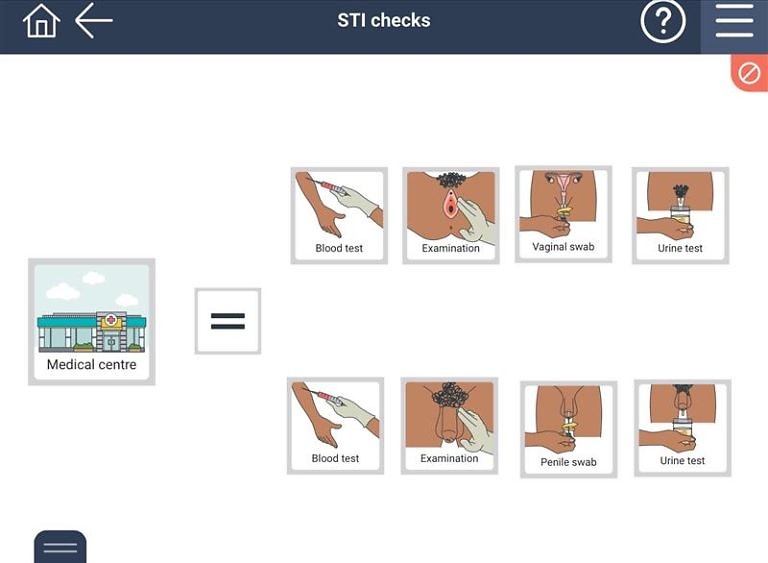 Generalisation ideas:
Addressing concerns:  talk about physical sensations and feelings people may have about going for an STI check.  Address any issues that arise.
Support:  who would you take as a support person if you were worried about having an STI check?
Practice runs:  in conjunction with a doctor or nurse go to the medical practice and walk through the procedure from beginning to end without doing the check to support desensitisation to these procedures.
How to bring up STI checks with partners?  Role play appropriate ways of bringing up this topic in relationships.
Consequences:  what happens after an STI check?  What happens if test results are clear?  What happens if you have an infection?
Flipsides:  What could happen if you have unprotected sex and don't have an STI check?  What do you do if your partner refuses to have an STI check?
Where to go for more information?: Consider differing abilities for independent or supported information seeking online, from a GP, from a sexual health nurse, from a Women's Health Clinic, from a local medical service, etc.
How to arrange an STI check:  Talk through the process as it relates to your client in the area you live in.