Changes in feelings with puberty
Overview
This lesson aims to provide support for understanding and normalising mood changes associated with puberty.  The lesson can be personalised and extended to support individuals developing self-awareness and insight into their own feelings which will support development of strategies for managing difficult emotions.
Foundation Knowledge for this lesson includes awareness of at least two basic emotions e.g. happy and sad.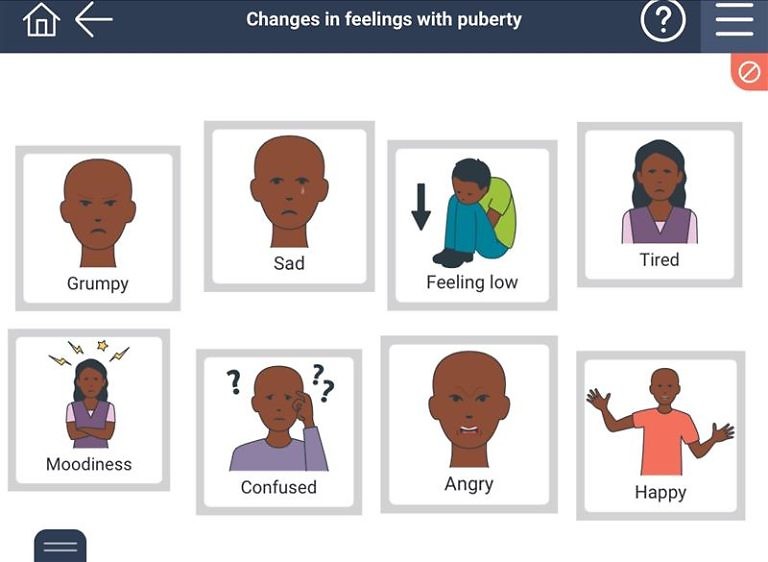 Generalisation ideas
Personalising the lesson:  You could create a custom lesson with images of your student demonstrating feelings they are experiencing during puberty.  These could be paired with specific situations or times.
Consequences:  Develop strategies for shifting emotions e.g. when you feel low what can you do to feel better?  Becoming aware of how others react to negative moods e.g. how do people react to you when you are grumpy?
Flipsides:  How do you feel when people are grumpy around you?  How can you help a friend who is feeling low?
Picture Sentences: Simple social stories that support emotion management e.g. moodiness + tired = rest
Sequencing:  feelings, confused, speak to, teacher
Teaching opportunities:  Look out for moments when shifts in mood are likely to be due to puberty shifts. When our student is calm talk through how feelings change during puberty, we learn to manage them, and it gets easier as you get older.